Testimonials
Discover what our patients have to say regarding their office visit, surgical experience or recovery process. We also encourage our existing patients to share their own experience!
Sheryl B.
Large Meningeal Cyst in Sacrum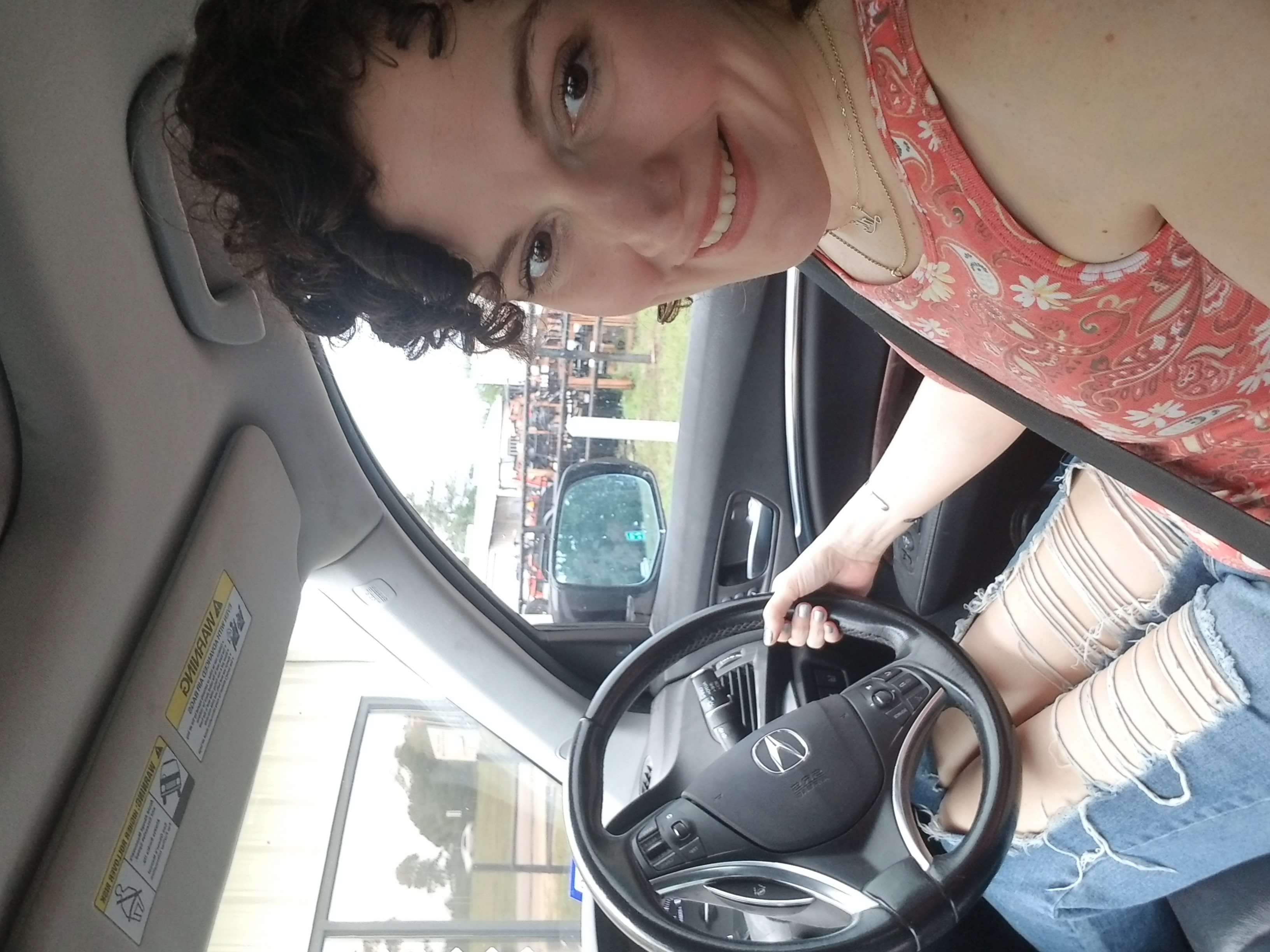 I am post-op 4 years, and this is my 3rd testimonial on here, because recovery is an ongoing process, and I would like to share my experience with you in hopes of easing your path. For context, I was completely bedridden prior to surgery, and it took me 2 years to fully recover post-op. But I did fully recover, and life was a dream. It was such a dream that I forgot all about the many hard-earned lessons that I had learned, and I let the mundane stressors of life pile back up on me. I got seriously, life is falling apart, kind of stressed and my first warning sign of an impending flare up was I developed TMJ. Not putting the pieces together that I was overly stressing my nervous system, I continued to stay in a toxic state. Then I decided to do some yoga to try and relax. NOTE: I do not recommend doing yoga. The flare up in my sacrum came on over 2 days and before I knew what was happening, I was back to being bedridden! I couldn't even sit up. After a full year of being recovered I thought that I was fully recovered, as in never have to worry about it again. Turns out I was wrong and totally devastated. Dr. Feigenbaum's nurse informed me that flare ups have been reported 5-7 years post-op. The flare up was very scary, came at the worse time ever in my life, and lasted for 8 months! But it did go away! Here's what I did: Anti-Inflammatory Diet Steroid Pack/Shot THC Tincture & Gummies CryoTherapy Large Ice Mats Every 2 Hours Effexor for stress. I remain on Effexor to help with my anxiety and stress levels, and I take THC tincture and gummies every day to eradicate pain, restless legs, and calm down my nervous system. The combo, plus a lifestyle overhaul, has been working miracles for me and I am so very grateful to have recovered once more. I believe it is very important that we stay on top of our stress levels, especially since our injury is directly associated with our fight or flight system. I wish you all speedy recovery and hope this prevents you from having a long setback like I just experienced. All My Love to You & Yours, Sheryl PS Dr. Feigenbaum Rules Forever & EVER!
Kathy Roth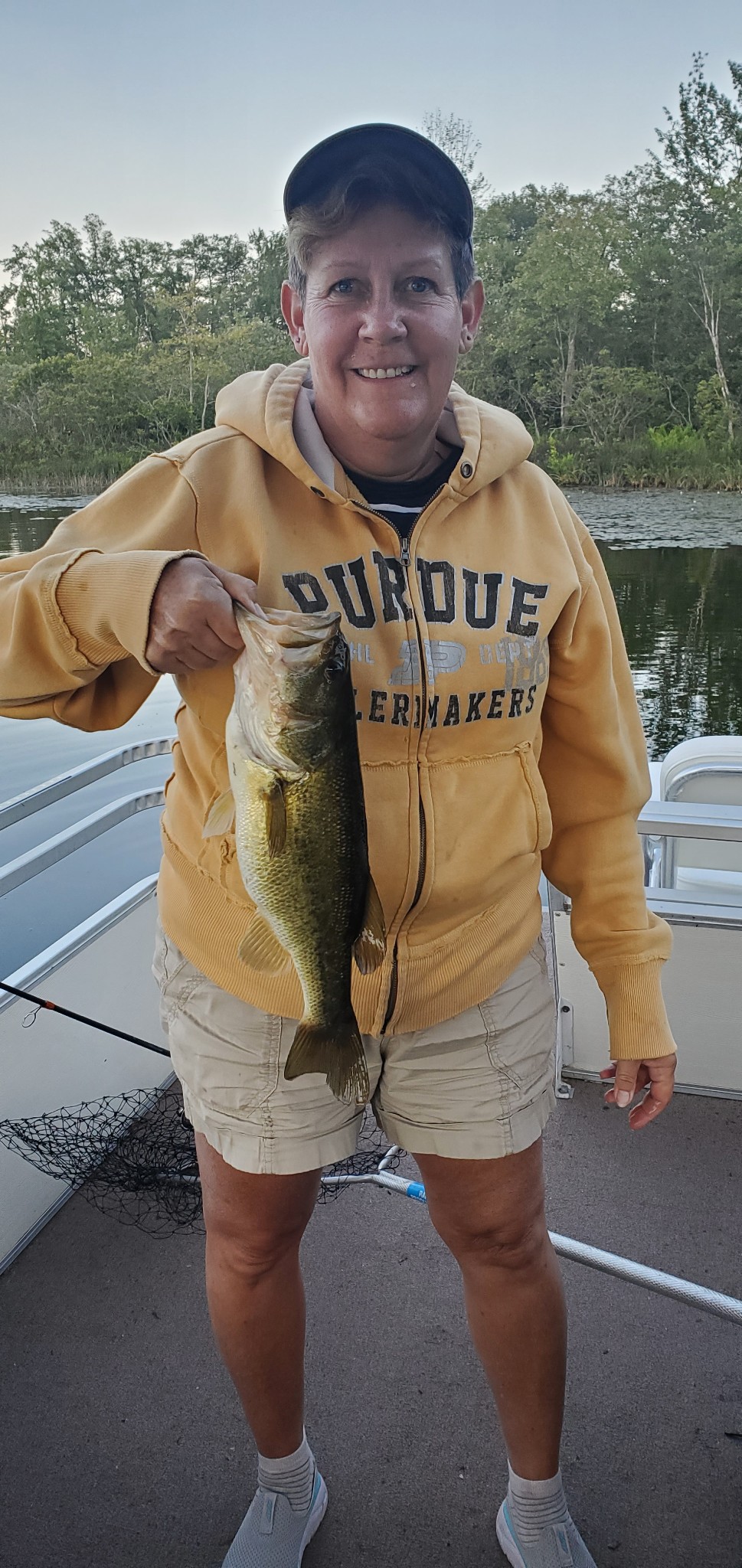 Two weeks ago on June 21st, 2022 I had my surgery with Dr Feigenbaum. Yesterday I was fishing with my husband on a beautiful Michigan summer day! Dr Feigenbaum treated 7 perineural cysts that were causing me extreme hip pain that traveled through my groin and down the back of my legs. My feet hurt terribly to stand up and I was experiencing bladder and beginning bowel incontinence. I could not get a neurosurgeon to actually even talk to me face to face in Grand Rapids, MI. And the nightmare of trying to get radiologists to read my MRI and report facts rather than opinions was incredibly frustrating and disappointing. I had a whole neurology practice refuse my referral to discuss my cysts and symptoms. The first office I went to sent in the PA who took one look at my MRI and said "I really think the Dr needs to see these" The Dr was suddenly "very busy" and recommended 30 days of PT. PT, of course caused more pain, after 3 days of trying it, they sent me back to the neurosurgeon. He again sent in the PA and I was given only the option of trying spinal injections to control my pain and they did not work. I researched myself and found Dr Feigenbaum. His many successes here in the U.S. and work overseas drew me to his office. I am so glad I chose him. The morning after surgery, I could tell already my hip pain was gone! I was pretty nervous to commit to the surgery and probably waited longer than I should have. I am so glad I had it done. I am still healing from the surgery, but already am feeling so much better. Thank you to Dr F. and your wonderful staff and the fantastic nursing staff at Medical City hospital!
Erica Zaputil
Sacral laminectomy, 6 sacral meningeal cysts, dorsal sacral reconstruction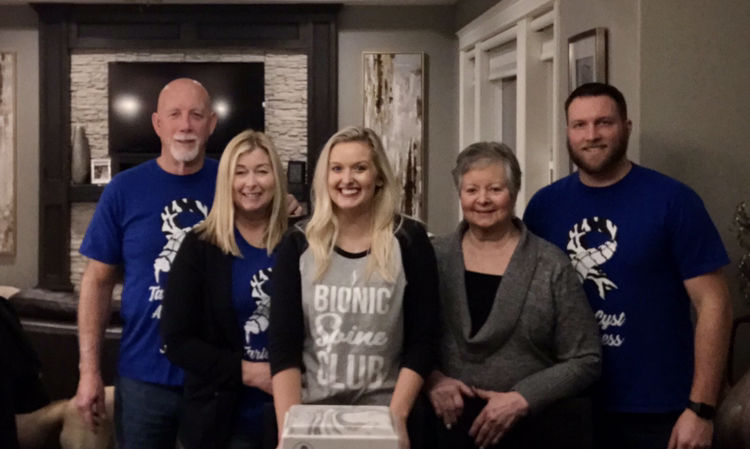 Surgery date: June 2020 Location of cysts: S1-S4 I will forever be grateful to Dr. Frank Feigenbaum and his team. This surgery truly saved my life and I'm so proud to be a Tarlov Cyst Disease survivor. I hope my story can inspire those of you that are suffering, to not give up and know that you are not alone. Backstory: I first developed sharp shooting pain in my tailbone in June of 2016. I spent the next four long years, trapped inside my deteriorating body, fighting for answers and the courage to carry on. I was a healthy female, in my early twenties and the medical community (with the exception of a few) had failed me and this is my story. One year later, in June of 2017, I was absolutely miserable and had tried everything under the sun to release my body of this pain. I finally couldn't take it anymore and left work in the middle of the day and went straight to the ER. I couldn't sit, had numbness down my right leg, neuropathy in my feet, severe lower back pain and the feeling like I was being stabbed in my tailbone. I was offered an x-ray, shot to help with the pain and sent home with a prescription for pain pills and a referral to a spine specialist. One week later, I met with the spine specialist and he had diagnosed me with Coccydynia and referred me to physical therapy. My physical therapist, Stacy Koenigs, went above and beyond to help alleviate my pain and provided me with the knowledge and tools to give relief at home. However, approximately 1.5 years into PT - I started really questioning my diagnosis. Things didn't seem to be adding up. I was doing ALL of the things but was rapidly declining. I would go to work, come home and crawl into bed for the night. I felt so lonely, depressed and hopeless. I had been told over and over again by the spine specialist that the tailbone takes a long time to heal. However, I knew in my gut, that something was seriously wrong with me. Unfortunately, much like my other Cyster & Myster's have experienced, I was not met with compassion, empathy or a care in the world from most of the medical community. In fact, I was laughed at, mocked and ridiculed for suggesting Tarlov Cyst's could be the cause of my pain. Not by one doctor but nearly two dozen spine specialists, NP's, MD's, DO's, neurosurgeons, pain management physicians, interventional radiologists, ER doctors and nurses. Not to mention, most were very quick to push prescription medications and/or injections and completely dismissed my questions and concerns after I declined their offer. I didn't want to mask the pain! I wanted real answers and a proper diagnosis! One spine specialist, in particular, advised me to seek professional counseling because this was the "best you're ever going to be, kiddo". I tearfully exited that room and spent the next several weeks reading medical journals, articles and anything that could further educate me on Tarlov Cyst's. I was very thankful to have found The Tarlov Cyst Foundation page and resources readily available. October 2019, I mailed my paperwork and medical records to Dr. Feigenbaum's office. January of 2020, my husband and I flew out to Dallas for a consult with Dr. Feigenbaum. I was properly diagnosed with Tarlov Cyst Disease and was informed that I was a candidate for surgery. I was completely overwhelmed but felt validated for the very first time. (Surgery was scheduled for April 2020, however; due to COVID-19, I didn't have surgery until June 2020.) The first year of recovery is an uphill battle. The healing and recovery process is as much mental, as it is physical. You really need a strong support system because every day of your recovery is different. My biggest piece of advice is to slow down, you can't rush the recovery process, so take the medications if you need them, lean on others for support, rest when your body tells you to, walk daily. You will have good days and bad days but please know that your bad days will not last forever. I'm so thankful for this second chance at a new normal. I no longer grieve the life that I once had because I have finally found the light at the end of the tunnel. I can feel the sunshine on my skin. I can hear laughter in the distance. I can smell freshly cut grass. I dream about my future. I found joy. I found happiness. I found a life worth living again. To those of you still struggling with this terrible disease, please know that you're not alone. I, too, was in your shoes merely one year ago. I would encourage you all to send in your paperwork (if you haven't) and lean on your support system. Do not let this disease win. Last but not least, I couldn't have done this without the support of my husband, family and friends and the medical professionals that rallied behind me. Stacy Koenigs - physical therapist, Dr. William Brandon Goble, Dr. Michael Nicholson, and Chandra Brown -ARNP.
Lucie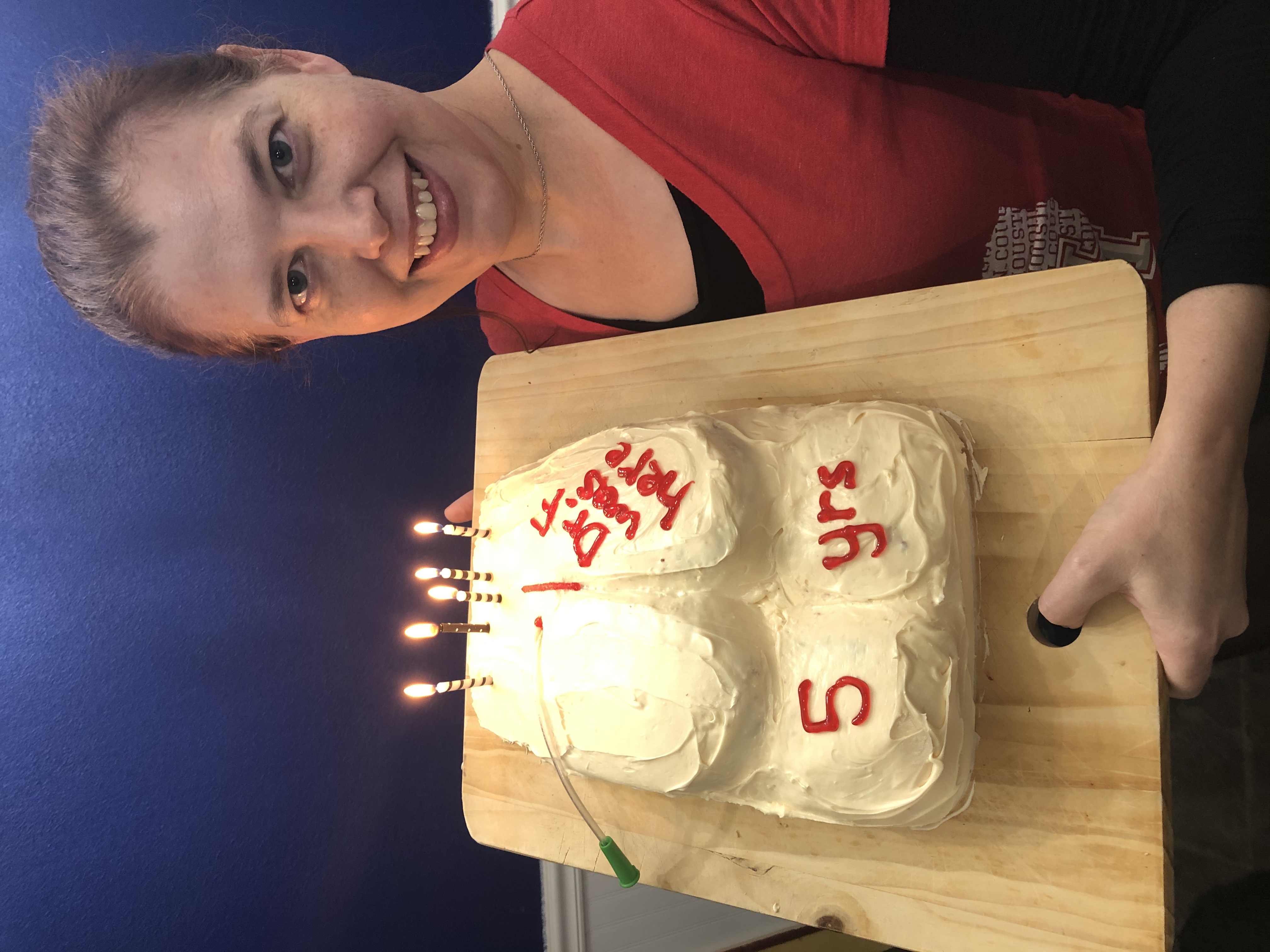 I had surgery with Dr. Feigenbaum on September 23, 2015! A fall on the ice in February 2014 led me to his door. Unrelenting pain, loss of sensation, and loss of function were my norm and I was quickly progressing downhill. The surgery went well. The recovery was long so it essential to be patient and positive which is, at times, difficult. The office was always responsive to my calls even when I called three years later because I fell down the stairs and had pain once again. They advised me to contact my doctor for a steroid pack and MRI if the pain did not subside. I'm grateful to have the ability to call although I never hope to again! I am doing well and have my life back. I can do most things that I want. I probably do some things I shouldn't. I seriously think of Dr. Feigenbaum daily even after 5+ years. And every day I thank God for his skilled hands and his dedication to helping the TC community. My husband made this cake for my 5th Surgerversary! It's a special day around here!
Nancy C.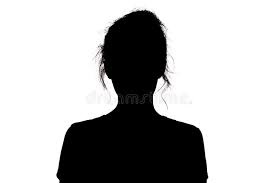 For over a year, pain ruled my life. After being bedridden for 7 months while working with local doctors for help, I went to Cleveland Clinic. I was given the same answer--"We have no idea where your pain is coming from." I ordered a copy of my MRI report and on it, for the first time, Tarlov Cysts were mentioned and the phrase "correlate clinically". When I asked this doctor if the Tarlov Cysts could be my problem, he said "who knows". Great help. I brought this info to local doctors and was told everyone has Tarlov Cysts and to ignore them. The pain was too great to ignore and after a long time of researching, I found Dr. Frank Feigenbaum. The process was long as Dr. Feigenbaum seems to be one of very few doctors that understands that in rare instances, these cysts can impact a patient with debilitating pain. Dr. Feigenbaum ordered a nerve block for these cysts and for two glorious days, my pain was gone...then it came back as the block wore off. This proved where my pain was coming from. Within months I was in Dr. Feigenbaum's office, scheduled the surgery and began a better life. The 3 cysts were treated, my pain went away and I was no longer ruled by pain. I've never taken to my bed again. If I'd never found Dr. Feigenbaum, I believe I would still be living a nightmare of pain. Best Dr. EVER.
Sheryl Bacon Jones
Tarlov/Meningeal Cyst Treatment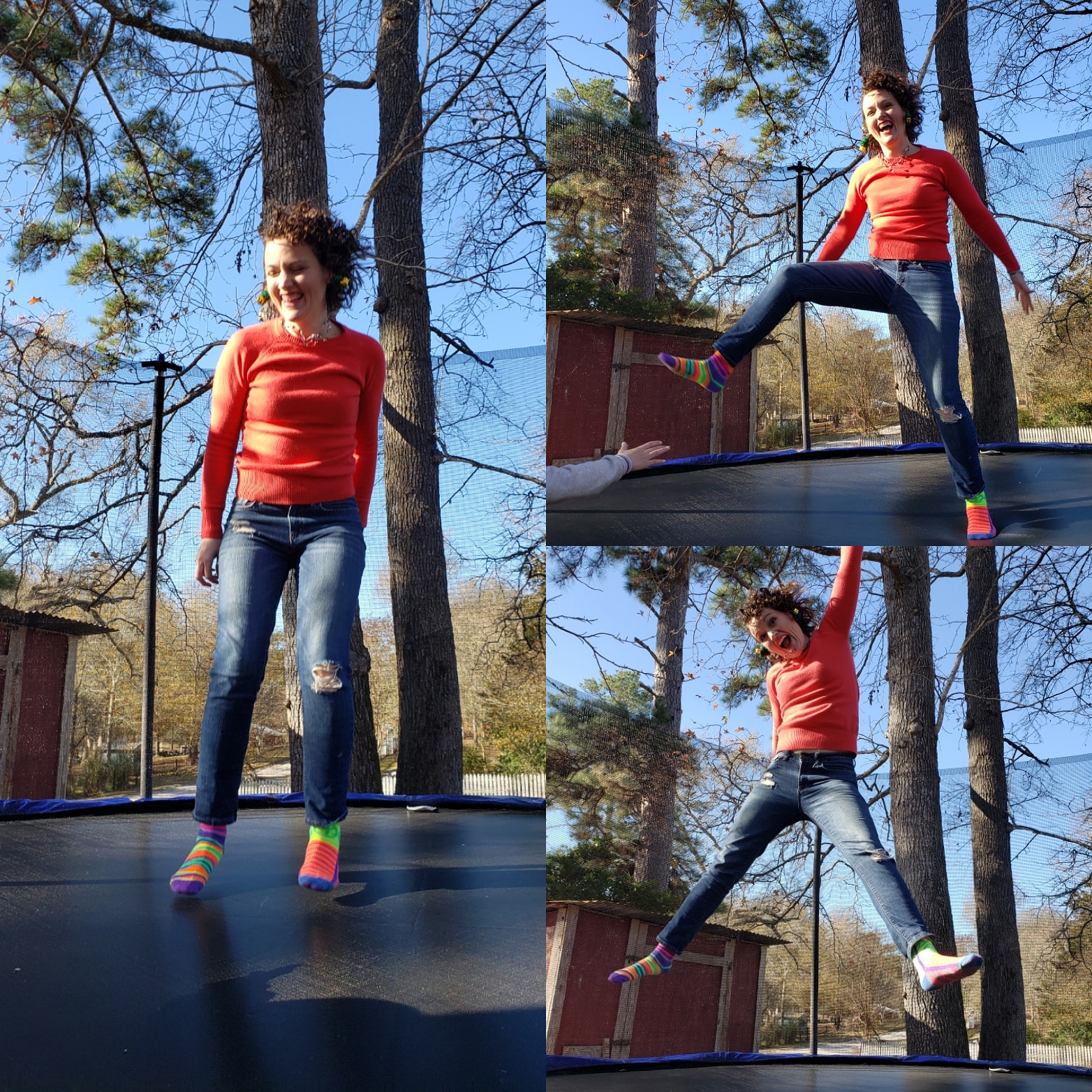 UPDATE: I am now 28 months post-op and continue to improve in leaps and bounds! Just this month I am able to run and jump on a trampoline!!!! I never thought I would be able to do those things again! I was completely bedridden for almost 2 years before and after surgery. Every movement is an absolute miracle! If you are suffering, please know that it will one day come to an end. If you are reading this, it just may be the beginning of the end for you. Just hang in there. Trust in your body. Trust in Dr. Feigenbaum. Trust. The journey you are on right now will one day be the most important journey of your life. I can't wait to see you here on the other side...
Mudawi from Kuwait
Treatment of meningeal cysts
I did my surgery on 2015. I was suffering from many symptoms from my tarlov cysts that made my life difficult and made me depressed. Many surgeons world wide told me that tarlov cysts won't show any symptoms and that my symptoms were not related to tarlov. After searching in the internet I found Dr. Feigenbaum and I contacted Debbie his assistant and we made a Skype call. They were so honest and clear. Then we arranged for the surgery. I traveled to Cyprus with so many symptoms and pain and returned back home with no pain or symptoms all all. My tarlov cyst surgery was the best decision I have ever made but what's important is finding the right and the one surgeon where you can close your eyes, trust, and let him work with no regret at all. If anyone suffered from tarlov cyst don't quit and don't harm your body with all the medications. Seek help and contact Dr Frank for a surgery opinion. With much love and appreciation.
Iris in Israel
Treatment of meningeal cyst
I had surgery by Dr F Feigenbaum, to treat Tarlov Cyst in Nov 2013, at AIMIS-Cyprus hospital. I and my husband were very happy with the care I received. Regarding the recovery, we think that good recovery was already after the first year, while the maximal recovery was after the second year. I feel good and happy to tell I have had two babies since the surgery. During the period of 2-3 month after the birth, the old pain symptoms appeared randomly, for several hours. I can say that now, almost 1 year after last birth, I feel well, without any pain symptoms. Meanwhile, our family got grown and are very thankful for that! Due to the last experience of giving birth, I got to decision to become a nurse midwife. Thank you for reading!
Sheryl Bacon-Jones
Treatment of large meningeal cyst
I put off writing this for many, many months. I put off sending in my surgery surveys and taking my follow-up MRI's. I didn't think I would react this way to the whole process, but I did. I did it because I was full of anger and doubt. I was mad at everyone and everything around me. In truth, I was angry that this whole thing had happened to me at all and so I resisted every part of it. Over time though, something magical began to happen. Slowly my anger lifted and clarity came forth. I finally surrendered to the process of recovery and therefore it began to transform me. My anger became immense joy and gratitude. My doubt became strength and confidence. My hate became love. Dr. Feigenbaum cannot tell us how, when or if we will recover, nobody can. Dr. Feigenbaum can only put himself out there as a physician and follow his heart in a direction of medicine that is mostly ignored and yet transforms the lives of every single patient he touches. He is a beautiful soul with a beautiful purpose. His nurses are full of love and wish nothing more but full recovery for each one of us as they try their best to comfort and calm the desperate. Every person, doctor and event unfolds so perfectly for our transformation that you won't believe your eyes looking back. I am not fully recovered physically, but I know I will be. My body is a miraculous gift and the amount of pain it has released is nothing short of magical. I was completely bedridden, suicidal, miserable, doped up, kill me now... the lowest I have ever been and ever hope to be again. I am truly like a decorated soldier now, we all are. I saw slight initial improvement after my surgery, but I was starting from a real low so my life didn't change all that much at first. Finally, at the 6 month mark real noticeable improvement swooped in to save me from my spiraling doubts and fears. I weaned from opioids to gabapentin on month 5 to try and escape the hope sucking effects of Vicodin...the gabapentin wasn't much of an improvement in that department. On month 6 I went cold turkey (was my improvement a coincidence? I don't know). All along I have been using Anodyne Infrared Lasers and supplementing with Nuphoria and about a million other things on a rotating basis. I am a little past my 15 month now and my transformation from bedridden to where I am now is crazy phenomenal. I have trouble bending and sitting still and bouncing around is off limits. However, the list of stuff I can do fills every fiber of my being with such elation and joy I want to burst. Before all this happened to me I was emotionally miserable; my soul was miserable. I would pray for contentment. I would pray that my anxiety and angst would go away. I was an absolute picture of a victim. This huge life event showed me my strength in a way nothing else could have. It has been the Hero's Journey to say the least. Every one of us have become our own heroes. If you are still in the midst of battle you must find a way to trust that you will come through it. You must trust that your body created itself from scratch and it can recreate itself once more. Mostly, for me, the process was about the relationship I had with myself. I was mean to myself. When I was at my lowest I told myself that I would never get better. I dwelled on missing my child's childhood and other completely terrible feeling thoughts. I never encouraged myself, I only discouraged. At some point that became a practice I could no longer bare. On that day my mental, emotional and physical healing truly began. I started cheering myself on. I started treating myself the way I would treat my daughter if she was going through this. I turned away from any thought that told me I didn't deserve to heal and wouldn't. Perhaps that was at the 6 month mark? The change was subtle at first and so it is hard to determine. I can tell you that as each month passes I continue to improve in every way possible. I love my body. I love my life. I love my family. I love Dr. Feigenbaum and all of his staff. I love the universe and God. I love. I love. I love. I want whoever is reading this to know that one day you will be singing to cows and hugging tress and dancing around in pure bliss because you too will have survived this harrowing journey and lived to tell the tale of transformation. I believe this has happened to each of us for a reason and that we all share some sort of common thread in our journey. I love each and every one of you as if you and your family were my own. I embrace and encourage each of you. If there is one token of advice I could pass along to ease your path let it be this... Keep F$%#@!$ Going. Love, Sheryl
Mark S.
Tarlov Cyst Surgery July 2019
I began to experience back pain towards the end of 2018. I had always had some discomfort due to some herniated disks in the lumbar area, but this pain felt different. I had pain while sitting, and the pain radiated down the left side from the buttocks, down the thigh, behind the knee, to the top of the ankle, and underneath the foot. I decided to have an MRI, and the report mentioned the herniated disks as the source of the pain. A Tarlov cyst at S2 was only mentioned in passing. I then began to research Tarlov cyst, and found Dr. Feigenbaum's website. After reading up on the condition, I realized that I had all the symptoms. I then booked an appointment with a well regarded neurosurgeon in my town. The surgeon reviewed the MRI and stated that Tarlov cyst never causes any problems, and that nobody would operate, as this directly involves spinal nerves. I asked her if she had ever heard of Dr. F. in Dallas, she said she had not. I wanted to know if there was any treatment she knew of that would help, and she said I would have to learn to live with the condition, and that she could send me to a pain management doctor. The pain management doctor had not heard of Tarlov cyst, and wanted to do a nerve block. I did not like the idea of someone putting a needle anywhere near the cyst, so I decided against this treatment. I brought my films to a neuro radiologist for a second opinion, and she echoed the feelings of the neurosurgeon, that the cyst was definitely not the cause of my problems. I contacted Dr. Feigenbaum and he reviewed my MR scans. He saw 2 Tarlov cysts at S2, and saw the the cysts were compressing spinal nerves, and had eroded the sacrum. Dr. F felt that I would be a good candidate for surgery, and I booked the surgery for July 17, 2019. I flew down to Dallas from Connecticut and had the surgery at Dallas Medical City. The hospital was really great and everyone was super friendly and helpful. After the surgery, I felt well. The neuro floor where I stayed for 2 and a half days was incredible. The staff was very attentive, and a comprehensive pain management program was in place from the moment I woke from surgery. I felt no pain or discomfort. The food at the hospital was quite good! All of the symptoms I had been having were gone. Dr. Feigenbaum visited me and told me that he had found 3 Tarlov cysts and that 2 were stuck together. The cysts had compressed nerves at S1-S3, and had eroded the sacrum right through the bone! Glad I went to see him when I did. During surgery he placed a resorbable plate and screws over the area of eroded bone, these will dissolve into water within 2 years, and leave a tough scar. I was then discharged to the hotel for a week and saw his nurse Alicia before flying home. I did a lot of research, and would not let anyone else do this delicate and difficult surgery on me. By the time I had seen Dr. F., he had done in excess of 2000 surgeries for Tarlov cyst. I am forever grateful to Dr. Feigenbaum for his high level of surgical skill and excellent results in treating this dreadful disease.
I began experiencing pain in my buttocks in 2015-2016 especially after working in the yard, bending over a lot. Sitting for a long time, driving, lying in certain positions and eventually standing and walking was painful. I finally went to an orthopedic doctor in the fall of 2016 and after getting an MRI the doctor referred me to their physiatrist to have epidural injections. I had two rounds and they didn't help. I had noticed on the MRI report (always get a copy of your test results) that I had a Tarlov Cyst but the three orthopedic doctors I saw didn't feel it was causing my pain. I started researching Tarlov Cysts and knew that was the cause of my pain. I immediately found Dr. Feigenbaum's website. After reading his bio, testimonials and how they can easily accommodate out of town patients I felt confident in contacting their office. The staff is caring and compassionate. Dr. Feigenbaum's special expertise in removing Tarlov cysts is phenomenal. He truly cares about helping patients get their lives back with relief from the pain. I had surgery to remove 6 Tarlov cysts in May of 2017. I am so glad I did. It took a while for the nerve pain to subside as a result of the surgery, which is normal. I don't have the pain I was experiencing prior to surgery. Sitting for a long time can still cause discomfort but I'm not complaining. After surgery I sent all three orthopedic doctors a letter about my experience along with my surgical report. One of them called me to ask more about the surgery and at the end of the conversation said he was sorry. Doctors need to be educated about Tarlov Cysts! Don't let them tell you it's in your head or you'll have to live with it on pain medicine. Please make an appointment with Dr. Feigenbaum. He is a blessing. Thank you Dr. Feigenbaum.
It's been 16 months since my Tarlov Cysts surgery with Dr. Feigenbaum. I had 7 of them. I'm finally able to walk more than 2 houses down and back. After adding a house or 2 every few days I can almost walk around the block. If nothing else it's helping me with my stamina, strength and is just lovely to be out. Dr. Feigenbaum, please except this heartfelt thank you for the surgery, giving me my life back and everything you did for me afterwards. Dr. Feigenbaum is a gift to us all with this horrible debilitating disease.
Rhonda T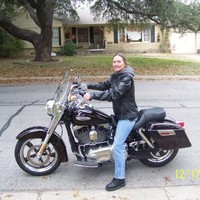 I guess the symptoms started about three years ago and I wrote them off to old age and due to some construction accidents from years ago. I first noticed the back of my thighs cramping badly when I walked upstairs. I didn't realize it was a symptom, but when sitting for very long like during meetings and training, I became extremely agitated from the pain in my low back. I think I may owe some apologies for the training reviews I wrote during this time. People don't enjoy much while they're in pain. My pain escalated, and walking upstairs or up a slight incline would reduce me to tears; there are a lot of inclines and stairs in construction. I escalated to the point where I could barely walk. I kept getting more and more symptoms: chronic nausea, chronic diarrhea then chronic constipation, and my blood pressure was over 200 at times; I couldn't urinate very effectively; sitting and standing were impossible. I went to two different orthopedic doctors and two different Primary Care Physicians. I was told I might have an ulcer and several mildly bulged discs but nothing that should be causing me a great deal of pain. My ortho sent me to another ortho to have him look at my hip thinking that was causing my pain. That ortho said I had some hip problems but it shouldn't be causing the pain I was having. He sent me to another hip doctor but I didn't go. I got a copy of my radiology report and started researching. I had a number of issues but nothing seemed to jive until I searched for tarlov/perineural cysts. Bam, there were my symptoms lined out for me. You cannot web search Tarlovs and not find Dr. Frank Feigenbaum. I am grateful for that. He treated my cysts in July. I am still recovering but am getting better. I thought I was going to be like that for the rest of my life. See that bike in the picture? I hope to be riding again by Spring. Before Dr. Feigenbaum and his staff came along I had no hope of riding again. I was on the verge of selling it. It's collecting dust in the garage now but not forever.
I suffered for many years with the pain becoming worse every day. I could not sit or stand comfortably for any length of time. Many doctors gave different diagnosis. None of them were accurate. Finally after 2 MRI scans, I noticed a tarlov cyst noted on the 2nd report. I researched them myself and saw a local neurosurgeon that told me it was impossible for it to cause symptoms. It was then that I made an appointment with Dr. F. Turns out that I had 5 cysts in the sacrum. By then it was difficult to walk at all. I noticed immediately after surgery the pain in my feet was gone. 2 years later and my pain level is down to about a 2 and some days not much pain at all. I have started working out again. I can walk and sit. I am getting my life back thanks to Dr. F and his wonderful staff. People thought I was just a complainer; now they know that I was really in pain. Thank you Dr. Feigenbaum!!!!
Rebecca from Ohio *Update*
Tarlov Cyst Surgery At The S1 Nerve Root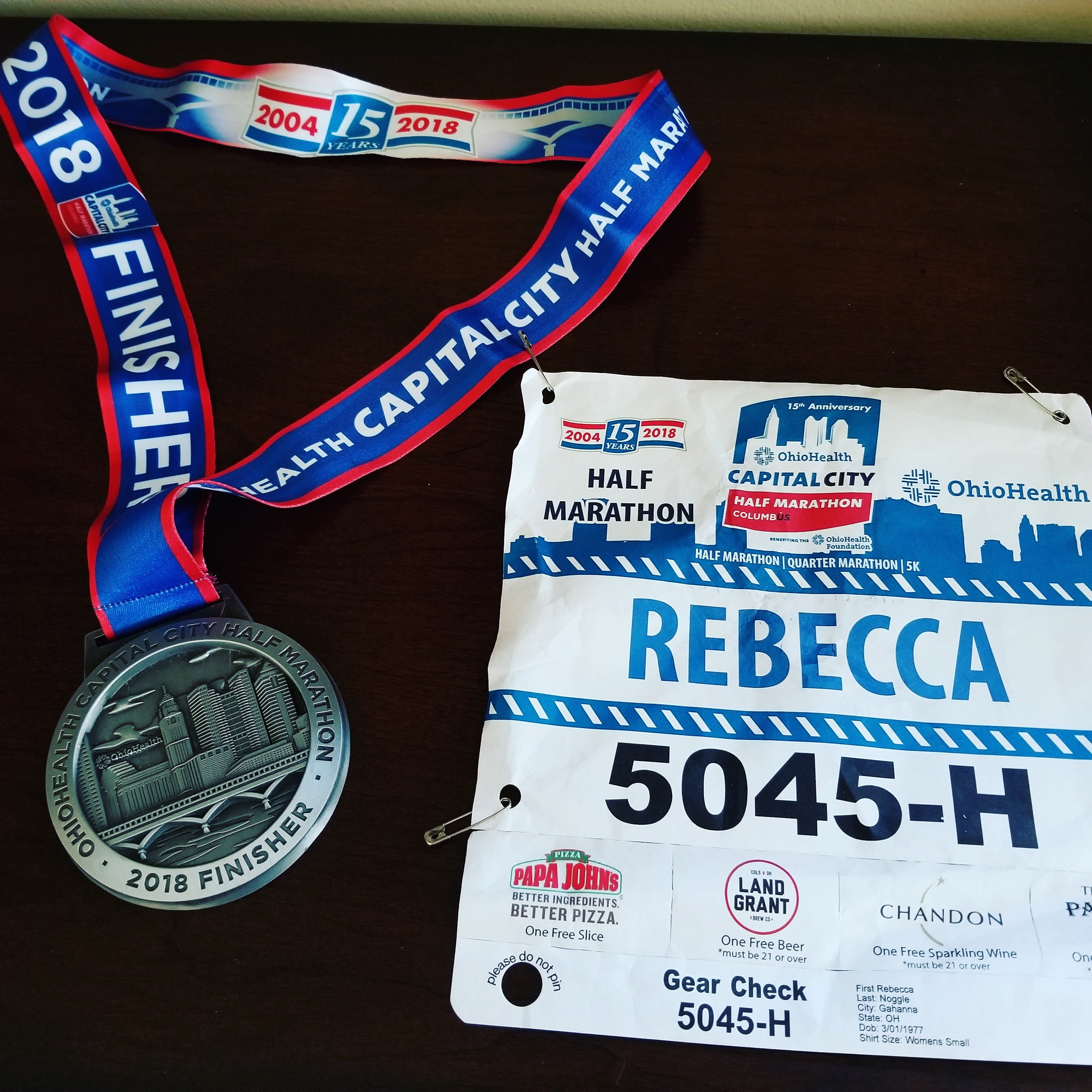 This is an update to my previous post (the one with the skydiving picture): About a year ago (7 years post-op), I started running for the first time in 23 years. Since then, I have completed several 5Ks, a 10K, and just finished my first ever half marathon. This would not have been possible without Dr. Feigenbaum's skill and expertise. I am forever grateful!