Effective April 1, 2020, during the COVID-19 Public Health Emergency, patients can request telehealth services. Telehealth services use a non-public facing interactive audio and video telecommunication system that permits real-time communication between the patient and the provider. Copays or patient cost-sharing for telehealth visits may be reduced or waived during this time. Please contact our office if you would like to request a telehealth service.
__________________________________________
Please do NOT send mail overnight. Since we are still working remotely, we recommend sending correspondence via USPS only.
________________________________________________
Feigenbaum Neurosurgery, PA
11970 North Central Expressway, Pavilion I, Ste 460
Dallas, Texas 75243
April 24, 2020
Re: Change of Address

Dear Patients, Providers, and Insurance Companies,
This is to inform you that we are growing and moving to a new office location, effective April 24th. Please send all communications to the address listed above.
If you have any questions, please contact our office. Our billing address, PO Box 952706, St. Louis, MO 63195-2706 will not change. Our phone number and fax numbers will not change either, phone 214-351-8450, fax numbers 214-351-8451 and 214-366-3713.
Thank you for attending to this matter immediately.

Laura Abshire
Office Manager, HR
Extension 5
PO Box 46739
Kansas City, MO 64188

__________________________________________________________________________________
March 23, 2020
Dear Patients, Providers, and Vendors:
We hope this notice finds you healthy and well. Administration has made the decision to have employees work from home during the COVID-19 pandemic. Please be patient, and we ask for grace as there may be background noises when communicating with our staff (i.e. children, and/or pets).
Please do not leave multiple messages with more than one employee, as this will delay care.
To help reach the right person, here are our contact options:
Option 2: Jennifer or Char'Lesa - office referrals, appointment scheduling, medical
records, or general questions
Option 3: Peg - pre-certifications for outpatient testing or surgeries, or disability/FMLA
forms
Option 4: Alicia - Nursing questions and issues for United States and Canadian patients,
check status of phone consultations
Option 7: Debbie - International nurse
Option 8: Brandi – surgery scheduling
Option 9: Sierra - post-operative MRI results or Diagnostic Nerve Root Block follow up
Option 5: Laura - Office Manager
Option 6: Sue - Business Development
Option 1: Heather - Billing
Our patients are the number one priority and want to continue to provide care even during this difficult time.
Thank you for your corporation.
Laura Abshire
Office Manager
W 214-351-8450 ext. 5
E lrabshire@gmail.com
________________________________________________________________________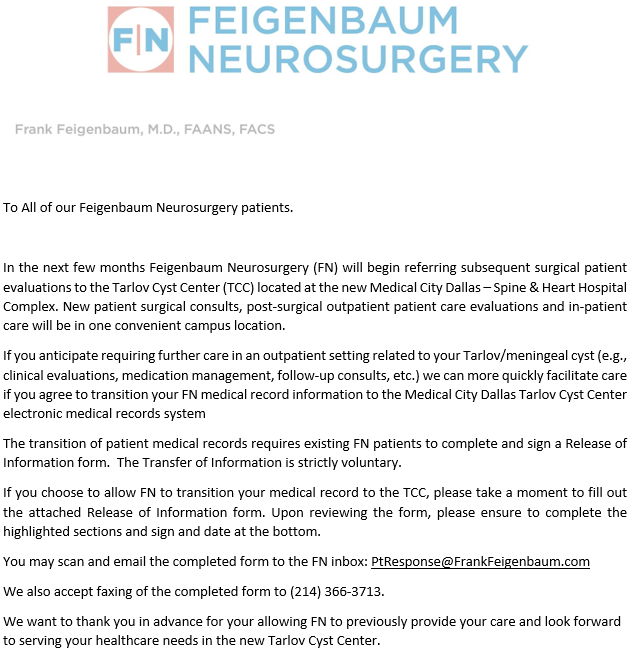 Tarlov Cyst Center Release of Information form

Effective 12/1/2019, we are no longer accepting UnitedHealthcare. Currently we are in contract negotiations and hope for resolution soon. We apologize for the inconvenience.

Dedicated to Helping Patients Get Their Life Back
Frank Feigenbaum, MD is committed to excellence by pledging to provide the highest quality of spinal care possible.
Dr. Feigenbaum treats many spinal conditions with a strong focus on Tarlov or meningeal cysts and minimally invasive spine surgery. Dr. Feigenbaum is one of only a few surgeons in the world with the experience and proven good outcomes with surgery for these rare cysts. Dr. Feigenbaum's practice routinely treats patients with giant meningeal cysts from all over the United States and other countries. He has developed and refined a surgical treatment that has been shown to improve the lives of patients.
We are pleased to have you as a patient. If you have any questions, always feel free to contact our office and our trained staff will assist you in any way possible. ↑ Back to Top